OFYR HOSPITALITY MAGAZINE
This magazine is specially created for professional chefs. Get inspired by the unique outdoor cooking concepts and see how you can use OFYR in your own business.
DO YOU OWN A BUSINESS WHERE YOU COOK WITH OFYR? SIGN UP HERE!
With this new feature in the OFYR Club, we will promote restaurants and other hospitality businesses that cook with OFYR. This will make it easier for our club members to experience OFYR anywhere in the world. From restaurants and catering services, to hotels and vineyards – register your business for OFYR on the Menu now!
Discover how OFYR fits in chef Sang Hoon Degeimbre's restaurant concept.
EXPERIENCE FACTOR IN HOSPITALITY BUSINESS
Expectations when visiting a hotel or restaurant have dramatically changed. Excellent service and excellent food have become the standard. Nowadays it is the experience factor that counts. For offering a smashing outdoor experience to their guests, OFYR has become the chefs new best friend by offering show cooking optima forma.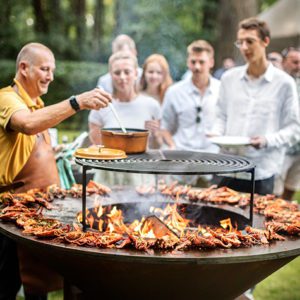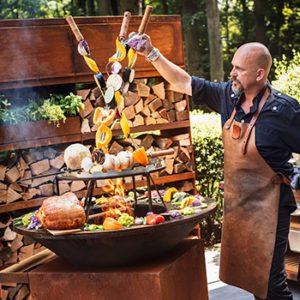 HUGE VERSATILITY AND LARGE CAPACITY
But OFYR is not only about show cooking, it is also a super versatile cooking device that offers a huge cooking capacity. The large surface of the plancha like cooking plate can be used for meat, fish and vegetables at the same time. With the grill and skewers many real grilling features can be added. Most chefs using OFYR for the first time, are astonished what cooking opportunities this apparently simple, woodfired cooking device does offer.
OFYR has also become the standard tool of many catering companies. Whether it is a wedding, an anniversary or another type of event, OFYR will always be one of the main points of attention. At a wedding there is always the risk that OFYR is more photographed than the bride 🙂

For these occasions there is next to the regular OFYR devices the OFYR XL or the OFYR Trailer, which is a mobile version of the XL. Two chefs can easily work on the XL at the same time.